Dive Summary:
Guinness & Co. announced the launch of its new Red Harvest Stout as a seasonal release for the U.S. this year.
Arriving in stores in September, the fall stout will have a mild, sweet taste and a red color with 4.1% alcohol by volume.
According to Guinness, the beer will come in four-packs of 14.9-oz. cans and be priced to compete with other premium imports.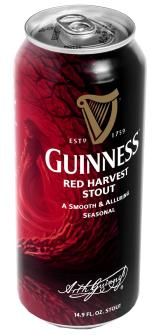 (Image credit: Guinness)
From the article:
... With GUINNESS® Red Harvest Stout, the makers of GUINNESS bring to the American beer drinker the ancient Celtic tradition of Samhain. In centuries past, Samhain (pronounced saw-wen) was the festival held every year on All Hallows' Eve in celebration of the end of the fall harvest and the coming of winter. Legend tells that on this night, restless spirits are beckoned from the darkness with bonfires and sweet offerings from the bountiful fall harvest. GUINNESS® Red Harvest Stout captures the spirit of this ancient Celtic tradition and represents Guinness' brewmasters' own crafting of this special offering to adult consumers for this fall season. ...